Package 1: Yoga for Structural Balance: Exploring the myofascial meridians in yoga - 6 Modules
This package consists of about 20 hours of pre-recorded video lectures with Tom Myers on his Anatomy Trains system, which charts the myofascial lines that connect all parts of the body. Ever wondered how to integrate the concepts of Anatomy Trains into yoga teaching and practice? We got you covered.

The course also includes more than 7 hours of yoga practices with yoga therapist Robin Rothenberg showing how to integrate the principles of Anatomy Trains in a yoga practice. Learn how to observe structural imbalances in your students and yoga practices to target these. 

In this package, we are also joined by Gill Solberg, an Israeli clinical kinesiologist and author of Postural Disorders & Musculoskeletal Dysfunction, who will offer insight into yoga teaching challenges created by common posture imbalances and how to address these in yoga teaching.

Also Included: $100+ in Great Bonuses!
* 3-Month FREE Access to YogaU's Practice Channel 
Practice online with leading yoga teachers like Ana Forrest, Judith Hanson Lasater & Lizzie Lasater, Doug Keller, Natasha Rizopoulos, Richard Miller, and many more!
* $30 Coupon for Any Other YogaUOnline Course Purchase
* Access to Our Exclusive Online Yoga Studies Group: The Embodiment Project 
Join a community of like-minded yoga teachers and get access to regular 5-minute video yoga tips with leading yoga teachers to keep you inspired and growing in your practice!
* Package 2: Foundations of Health: Fascia in Movement & Yoga - 6 Modules




If you are mainly interested in the role of fascia in movement and yoga, you might prefer Package 2:


 In this package, join Tom as he explores the latest developments in fascia research and what these means for our approach to movement, how fascia is likely to play a role in mental-emotional health, and best strategies for working with fascia in your yoga practice.
 In this package, you will also learn how to develop greater awareness of the myofascial meridians in your body with Somatic Body Sensing techniques developed by Yasmin Lambat, a leading somatic educator from South Africa. Also explore techniques for myofascial release in yoga with P.T. and yoga teacher Chrys Kub.

You'll receive the same bonuses as those offered with Package 1.

*

Package 3: Save $100! Get Both of the packages Above! - 11 MODULES




Get all of the material in packages 1 &2 and save $100 off the regular combined price.





* BEST DEAL! Package 4: Professional Training Track - Yoga, Fascia & The New Anatomy




Ready to take your teaching to a new level? Join our professional training track and get access to everything in package 3, plus these additional benefits:



 

option for Live weekend workshop with Tom!




Learn about the principle of biotensegrity as it applies to movement and lifelong mobility in this weekend workshop with internationally renowned fascia expert and Anatomy Trains author Tom Myers. The workshop will be held March 20-22, 2020, Arlington, VA





Package 4 also includes these great Bonuses valued at $750+!






-5-hour online course on Observational Skills with Tom Myers


In this recorded course, join Tom Myers as he explores the art of body reading. Through applied study of Anatomy Trains, learn to identify posture imbalances in the different forms they take.






- 5-part course on Marketing Skills for Yoga Teachers,

which shows you how to develop a no-cost or low cost website, how to market effectively in your local area with Facebook, and much much more.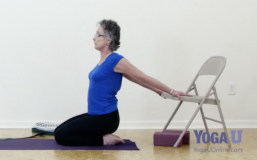 - one-year subscription to YogaUonline's practice channel


Ever wished you had the opportunity to practice regularly with yoga luminaries like Ana Forrest, Doug Keller, Judith Hanson Lasater and her daughter Lizzie Lasater, Natasha Rizopoulos, and more? Now you can! Get one year free access to our YogaUOnline Practice Channel with package 4.





Sign Up For Package 4 And Get This Extra Early Bird Bonus:





The Role of the Fascial Matrix in Fostering Resilience and Strength


Get an extra EARLY BIRD bonus course with yoga therapist Donna Brooks on the Role of fascia in keeping the soft tissues balanced and healthy. Learn why constrictions in the fascis matrix can lead to a increasingly restricted movement and in the long run, chronic pain. Donna will show how to release strain patterns in the fascial body to help us retain full mobility and recover more quickly and thoroughly from tension, injury